Militants attack Indian army base in Kashmir 'killing 17'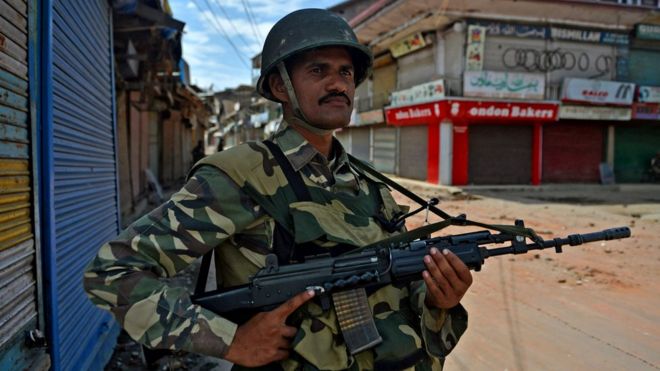 Militants have attacked an army base in Indian-administered Kashmir, killing at least 17 soldiers, the army says.
Four of the attackers were killed, an army officer told the BBC. Carrying guns and grenades they stormed a base in Uri, close to the Line of Control with Pakistan in a pre-dawn ambush.
The incident is the most deadly in the disputed region in recent years.
It comes as violent protests against Indian rule in Kashmir continue, with a strict curfew now in place.
More than 80 people, nearly all anti-government protesters, have died in more than two months of violence.
A search is under way for other militants believed to be hiding in the area, according to the army.
"We salute the sacrifice of 17 soldiers who were martyred in the operation," a statement said.
The militants infiltrated across the Line of Control from Pakistan before attacking the base, west of Srinagar, the army officer said, speaking on condition of anonymity.
Gunfire and explosions were heard for several hours.
Many tents and temporary shelters caught fire during the attack, according to the army's Northern Command.
Disputed Kashmir is claimed in its entirety by both India and Pakistan and has been a flashpoint for more than 60 years, causing two wars between the neighbours.